Urbania Patio Door
Aluminum
OFFERS A PANORAMIC VIEW
The Urbania patio door stands out with its simple lines, its large glass surface and its well-arranged handle. The central opening configuration creates a huge glass surface and a prestigious look. Ranging up to 16 feet wide and 8 feet high, this 4-panel configuration offers the widest opening in our range, making Urbania the perfect choice for extending your living space outdoors. With its all-aluminum construction, it is a guarantee of robustness.
Urbania Patio Door
Frame and Sashes: In aluminum with thermal barriers
Configuration: Symmetrical or Asymmetrical, 2 or 4 panels up to 16 feet
Transoms and sidelights: Very large dimensions to create glazed walls as amazing than effective
Color: Optional on request
Costs: $$$$

$
Available Options
Configurations
Handle
Different Options
Energy glass: Thermos Double or Triple Low E with Argon Gas.
Configurations: 2 symmetrical or asymmetrical panels or 4 panoramic panels with central opening.
Colors: Standard in black or white. Optional custom color.
Transoms and Sidelights: Custom-made to create wall openings of impressive sizes.
Grills: Give a unique style to your door by adding sealed grills between two glasses.
Standard Features
Features

Cadre: Frame: 3" narrow frame for maximized glazed surface
Frame and Sashes: Aluminum frame and sashes with thermal barriers
Spacer: Warm-edge spacer technology for outstanding thermal resistance
Sill: The anodized aluminum sill offers improved durability and supports fast drainage
Reinforcement: The door uprights are reinforced with steel for superior strength and durability
Warranty
Warranty on our products and installation
The installation carried out by Portes et Fenêtres 440 inc. is guaranteed for a period of five (5) years, following the date of installation. Warranties on products sold by Portes et Fenêtres 440 inc. are covered for a predetermined period from the date of purchase, upon presentation of proof of purchase: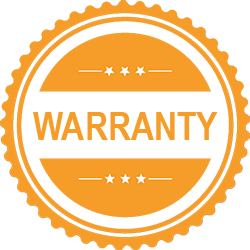 Energy Performance
2020 Energy Star Certification
To be ENERGY STAR® certified, residential window and door models must meet or exceed an RE Factor of 34. The RE Factor indicates the overall energy performance of a window. All of our products are ENERGY STAR® certified. Learn more and ask for ENERGY STAR 2020 certification.