Tilt & Turn Door
PVC or Hybrid
OFFERS MORE BRIGHTNESS
The tilt-and-turn door manufactured in the interior swing version only presents a high quality alternative to steel entrance doors. Its European and Contemporary style and its larger glass surface will bring brightness to your home. It will perfectly match your tilt and turn windows.
Tilt & Turn Door
Choice of: PVC or Hybrid (PVC covered with aluminum)
Reinforcement: Made of steel for high structural performance, allowing doors of large dimensions
Hardware: Stainless steel
Lock: Very secure multipoint locking mechanism
Optimal Energy Performance: *Ask for EnergyStar 2020
Costs: $$$$

$
Available Options
Configurations
Hinges
Materials and Components
PVC or Hybrid: 4 1/2'' All-PVC or 6'' Hybrid frame (PVC coated with Aluminum) with steel reinforcement allowing large dimensions. Custom interior extension.
Colors: Unlimited choice of colors
Glazing: Sealed units (thermos) double or triple energy glass + argon gas for increased thermal and acoustic value.
Screen: Exterior screen [Aluminum frame and fiberglass wick].
Handles
Choice of Handles
4 different models of handles are available, depending on the style of door desired. Several finishes available; Nickel, Pewter, Brass, Chrome, Bronze and Black.
Grilles and Crossbars
Enhance your door
Integrated inside the insulating glazing, the grills can be painted inside or outside. The crossbar is glued to the glazing and can also be painted. Tubular, Rectangular or Georgian grills. Colonial or Contemporary crossbar.
Standard Features
Features

Frame: 4 1/2" frame and heavy duty multi-chamber PVC sash for greater strength. In hybrid version, 6'' frame.
Hinges: Visible hinge system allowing the inside opening of the panel to 180° (complete).
Lock: Perimeter multipoint locking system for maximum tightness and safety.
>Weatherstrip: Integrated and continuous triple weatherstripping for better air and water tightness and excellent acoustic performance.
Dimensions: Standard or custom
Warranty
Warranty on our products and installation
The installation carried out by Portes et Fenêtres 440 inc. is guaranteed for a period of five (5) years, following the date of installation. Warranties on products sold by Portes et Fenêtres 440 inc. are covered for a predetermined period from the date of purchase, upon presentation of proof of purchase: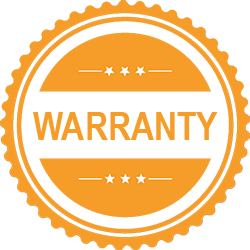 Energy Performance
2020 Energy Star Certification
To be ENERGY STAR® certified, residential window and door models must meet or exceed an RE Factor of 34. The RE Factor indicates the overall energy performance of a window. All of our products are ENERGY STAR® certified. Learn more and ask for ENERGY STAR 2020 certification.