Fixed - Architectural Windows
PVC or Hybrid
GREAT BRIGHTNESS
Very trendy, the fixed window allows great visibility on the outside, it also offers optimal air and water tightness. Rectangular in shape, it is less expensive than a window requiring hardware for the openings. The architectural window (more expensive) allows you to create a window with a special shape corresponding to the architectural style of your home. Be Creative!
Fixed - Architectural Window
Choice of: PVC or Hybrid (PVC covered with aluminum)
Trendy: By its possibility of making fixed windows of very large dimensions, offering maximum visibility on the outside
Hardware: None. Can be combined with another window; casement, hung etc... to make a modular window
Shapes: Custom made; rectangular, polygon or curved
Optimal Energy Performance: *Ask for EnergyStar 2020
Costs: $$$

$$
Available Options
Configurations
Grilles and Crossbars
Add Style
Integrated inside the insulating glazing, the grills can be painted inside or outside. The crossbar is glued to the glazing and can also be painted. Tubular, Rectangular or Georgian grills. Colonial or Contemporary crossbar.
Materials and Components
PVC or Hybrid: Small narrower fixed frame, all pvc in colonial style (4 1/2'' or 6 9/16'') or contemporary style in hybrid version (5 3/4'' or 6 9/16'').
Colors: Unlimited choice of colors, painted at Abritek
Glazing: Sealed units (thermos) double or triple energy glazing + argon gas for increased thermal and acoustic value. Options; Frosted, tinted, sandblasted, screen etc...
Standard Features
Features

More flexible frame: The small fixed frame being narrower offers more visibility on the outside. More flexible, it is possible to bend this frame to make geometric shapes of your choice.
This type of frame is also used as a transom for doors and windows or to make large glass surfaces.
Warranty
Warranty on our products and installation
The installation carried out by Portes et Fenêtres 440 inc. is guaranteed for a period of five (5) years, following the date of installation. Warranties on products sold by Portes et Fenêtres 440 inc. are covered for a predetermined period from the date of purchase, upon presentation of proof of purchase: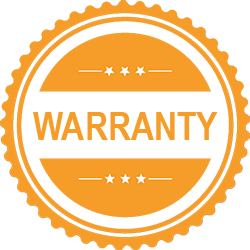 Energy Performance
2020 Energy Star Certification
To be ENERGY STAR® certified, residential window and door models must meet or exceed an RE Factor of 34. The RE Factor indicates the overall energy performance of a window. All of our products are ENERGY STAR® certified. Learn more and ask for ENERGY STAR 2020 certification.