R-550 Patio Door
Wood covered with welded PVC
AUTHENTIC AND WARM
With its simple, clean profile and elegant handle, the R-550 Patio Door offers a modern look that blends with your décor. Its adjustable tandem ball bearing system provides easy and quiet operation. Its wood and PVC frame (welded) makes it very easy to install. A quality door and a sure value for renovation.
R-550 Patio Door
Sashes: Welded PVC sashes, narrower for more brightness
Frame: Wood/PVC frame that combines the rigidity of wood and the durability of PVC; easy installation
Thickness: Available from 5 1/2'' to 11 3/4''
Security: Double-point mechanism
Quality: Exceptional energy performance
Costs: $$

$$$
Available Options
Configurations
Handles
Multiple Styles
The standard R-550 patio door comes with the white Look handle and optionally the white, oil-rubbed bronze or satin nickel View handle.
Different Options
Energy glass: Thermos Double or Triple Low E with Argon Gas or tinted glass.
Integrated blinds: White or gray satin aluminum
Security bar: (Option available in white only)
Foot lock: (Option available in white only)
Key lock
Unlimited choice of colors
Grills: Give a unique style to your door by adding sealed grills between two glasses.
Standard Features
Features

Frame: Wood covered with PVC
Sashes: PVC narrower welded at 45°
Tandem wheels: Maximizing smoothness of ride and ease of operation
Sill Cover: Made of anodized aluminum for increased resistance to impact
Reinforcement: The door uprights are reinforced with steel for superior strength and durability
Look handle: Contemporary sleek style
Warranty
Warranty on our products and installation
The installation carried out by Portes et Fenêtres 440 inc. is guaranteed for a period of five (5) years, following the date of installation. Warranties on products sold by Portes et Fenêtres 440 inc. are covered for a predetermined period from the date of purchase, upon presentation of proof of purchase: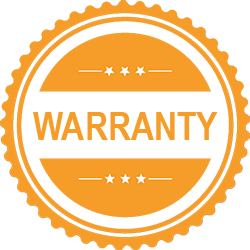 Energy Performance
2020 Energy Star Certification
To be ENERGY STAR® certified, residential window and door models must meet or exceed an RE Factor of 34. The RE Factor indicates the overall energy performance of a window. All of our products are ENERGY STAR® certified. Learn more and ask for ENERGY STAR 2020 certification.