R-540 Patio Door
Wood covered with PVC
BEST QUALITY/PRICE RATIO
Beyond its current look, this door is the most versatile in our range. Designed with a wide range of options that adapt to your type of construction, it is easy to install and provides superior energy efficiency that meets the Energy Star standard. Perfect for renovations.
R-540 Patio Door
Sashes: PVC sashes, narrower for more brightness
Frame: Wood/PVC frame that combines the rigidity of wood and the durability of PVC; easy installation
Thickness: Available from 5 1/2'' to 11 3/4''
Security: Double-point mechanism
Quality: Exceptional energy performance
Costs: $

$$$$
Options Available
Configurations
Handles
Different Options
Energy glass: Thermos Double Low E with Argon Gas or tinted glass.
Security bar: (Option available in white only)
Foot lock: (Option available in white only)
Key lock
Unlimited choice of colors
Grills: Give a unique style to your door by adding sealed grills between two glasses.
Standard Features
Features

Frame: Wood covered with PVC
Sashes: Narrower in PVC
Energy glass: Thermos Double Low-E with Argon Gas.
Reinforcement: Steel reinforcement in the vertical stiles for superior and durable strength
Threshold and head without wood: The horizontal PVC crosspieces guarantee a longer life. Indeed, the crosspieces prevent any deterioration since they are resistant to water infiltration.
Warranty
Warranty on our products and installation
The installation carried out by Portes et Fenêtres 440 inc. is guaranteed for a period of five (5) years, following the date of installation. Warranties on products sold by Portes et Fenêtres 440 inc. are covered for a predetermined period from the date of purchase, upon presentation of proof of purchase: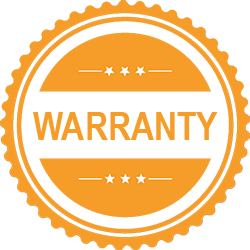 Energy Performance
2020 Energy Star Certification
To be ENERGY STAR® certified, residential window and door models must meet or exceed an RE Factor of 34. The RE Factor indicates the overall energy performance of a window. All of our products are ENERGY STAR® certified. Learn more and ask for ENERGY STAR 2020 certification.